If there's one thing better than having lots of data, it's probably visualizing it.
I've been coming across new sites and new ideas for visualizing data, and thought I'd mention a few.
One of the things I love about the New York Times is their smart visualizations. The interactive graphic A Year of Heavy Losses was a huge hit last fall (even if the data was scary as hell) as the financial meltdown was unfolding. Treemaps can be difficult to understand, but this one nailed it.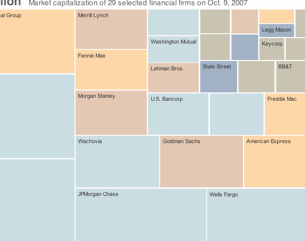 Even the Times' day-to-day infographics can be a pleasure to look at. Did you know that the NYT has a Visualization Lab where you can make your own visualizations? It uses the many eyes technology from IBM.
FlowingData explores many visual aspects of data. If you haven't seen their visualization of Watching the Growth of Walmart Across America, (which uses the Modest Maps library) I highly recommend it — but the site has a lot more to discover.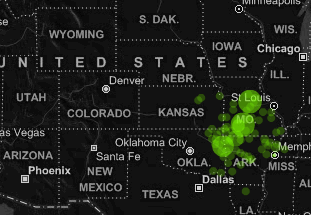 Jeff Clark over at Neoformix continues to produce thought-provoking visualizations, many full of beautiful insight, like this contrast of two speeches, and some, like his visualization of Obama's victory speech, are just plain "hang on the wall" beautiful (politics aside). I spend way too much time at Neoformix. Rather than single out one post, check out his Neoformix Review 2008 and see if you're not intrigued. Jeff also links to other interesting visualization sites and projects.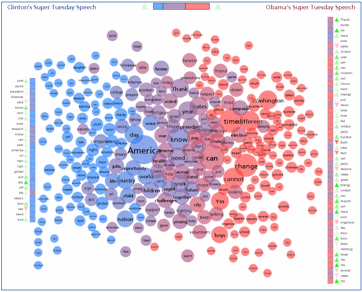 Infographics should tell a story. Seeing a map of the US with red and blue states doesn't really give the full scale of how the election went. Mark Newman, however, does a good job showing how using the geographic area is the wrong way to visualize the data, and coming up with better suggestions.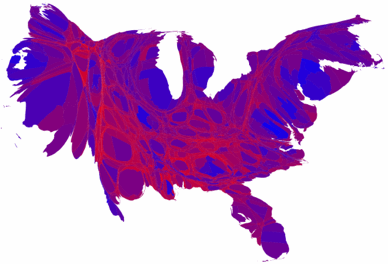 Tim Showers' visualization discussions are worth checking out. I particularly liked his post on the challenges of visualizing multi-level data .
The TheStatBot does various dives into data that doesn't normally get the spotlight, such as what post-processing software gets used on Flickr. Here's a Twitter Wordle they did of Leo Laporte's various tweets: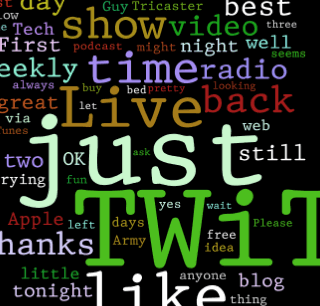 And .. if you like infoclutter (and we all do, sometimes, right?), check out this dashboard!
Finally, if you've made it this far: not really a data visualization, but a fascinating time-lapse movie of a four seasons in one 40-second video.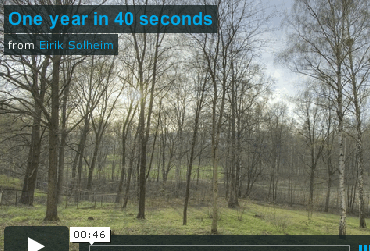 Have you seen other interesting visualization ideas?